Press
HUBERT HARRY – THE FORGOTTEN PIANIST
UK BOOK LAUNCH AT FORSYTH'S, MANCHESTER,
FRIDAY 22nd AUGUST, 11.00.
Hubert Harry was a great British pianist who became forgotten and unknown in his own country – until now. A new book describes his life, his art, and thankfully his recordings. Three years after his death, the spotlight shines posthumously to illuminate a great pianist, a master musician, a profound thinker, a beloved teacher, and a wonderful human being.
Born in Cumbria in 1927, Hubert played Rachmaninoff at the age of 4 and became known locally as a child prodigy. From the age of 8 he studied at the Northern School of Music, Manchester, where he was befriended by Clifford Curzon. In 1946, aged 19, he travelled alone to Switzerland to continue studies with Edwin Fischer at the Lucerne Conservatoire. In Geneva he took lessons with Dinu Lipatti (who was by then terminally ill). Before Lipatti died (December 1950), Hubert Harry won the Geneva International Music Competition (Concours international d'exécution musicale de Genève) where the jury included Alfred Cortot.
Hubert Harry gave UK recital and concerto concerts just four times in the early 1950s (at the newly opened Royal Festival Hall). Otherwise his public performances were exclusively in Europe (Germany, Italy, The Netherlands) and South America (Chile – homeland of his wife Heidi). Concerts were intensively prepared, and public appearances became rarer as time became absorbed by his teaching at the Lucerne Conservatoire for which he became famed, acclaimed and ultimately legendary. 
Hubert Harry made his home in Lucerne. Annual concerts in Lucerne became major events in the local calendar, many thankfully recorded as living testimony to his art. At a Lucerne Festival in the 1950s, he performed (repeatedly!) the Beethoven "Emperor" concerto under apprentice maestros at a master-class given by Herbert von Karajan. Lifelong correspondence with Clifford Curzon included discussions about the technical and physical challenges (Curzon being aboard a trans-Atlantic liner sailing for a US concert tour) of the two Brahms piano concertos!
Hubert Harry died in June 2010 aged 83. His widow, Heidi Harry-Pfenniger, has organised and explored the Hubert Harry Archive of books, papers, programmes, photographs, and recordings that include books owned by his grandfather in the 19thcentury. Hubert's life and art are now portrayed in a magnificent book (English and German texts) edited by Heidi and written by herself and Roger Taylor (in English) and Rudolf Bossard (in German). The book is copiously illustrated (layout and art-work by Allan Harry) and includes an 18-track CD of hitherto unpublished recordings. For English readers the book is accompanied by a supplement comprising translations of chapters originally in German.
The book includes a comprehensive discography, and the UK launch coincides with the publication of three new CDs. These contain concerto performances assumed lost until rediscovered only in the past year in the archives of Swiss Radio – Beethoven "Emperor" concerto, plus Brahms piano concertos Nos. 1 and 2.   
In life, Hubert Harry eschewed self-publicity. Posthumously, his life, art and recorded heritage now receive attentions so richly deserved. The story of his life and the sounds of his pianism are now available for the knowledge and enjoyment of all.
Roger Taylor
BOOK:
Rudolf Bossard, Heidi Harry, Roger Taylor
"Hubert Harry – Pianist: Fragmente eines Lebens, Fragments of a Life."
Lucerne, Switzerland:
Pro Libro, 2013. 247 pages. English/German. 28 x 21.5cm.
ISBN 978 3 905927 31 3
SUPPLEMENT:
Published by Heidi Harry-Pfenniger, 2014. 27 pages. English.
27.5 x 21cm, is included for English readers.
UK LAUNCH:
Forsyths Music Shop, 126 Deansgate, Manchester, M3 2GR.
11.00, Friday 22nd August 2014.
In attendance:
Heidi Harry-Pfenniger
Catherine Anne Harry (daughter)
Allan Lawrence Harry (son)
Roger Taylor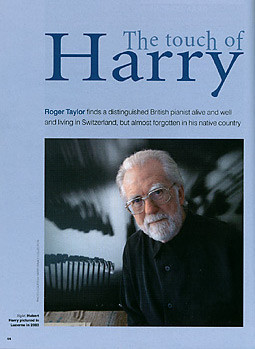 (...) We have something new for you in this issue: 
a profile of the pianist Hubert Harry. As the author Roger Taylor explains, our own Rob Cowan blazed the trail leading to that fine artist. Perhaps this late attention will bring forth an Indian summer for Harry. (...) Classic Record Collector, Winter 2004, Volume 10, Number 39 Tully Potter, Editor, Classic Record Collector Magazine
 Classic Record Collector magazine is available on subscription
please call WDIS Ltd on +44 (0)20 8606 7506
www.classicrecordcollector.com