Hubert Harry
Born in 1927 in Dalton-in-Furness, Cumbria, he died in Lucerne, Switzerland, in June 2010. The first piano lessons at the age of three were from his father, who was an organist and choirmaster. At the age of six, he became a pupil of Hilda Collens, Founder and Principal of the Matthay School (later Northern School) of Music in Manchester. In 1946 he received his Performer's and Teacher's LRAM. The friendly help of Sir Clifford Curzon enabled him to continue his studies in Lucerne with Edwin Fischer and later with Paul Baumgartner. After some time as a student of the unforgettable Dinu Lipatti, he continued working with Lipatti's assistant Louis Hiltbrand in Geneva. In 1950 he received the rarely awarded Prix de Virtuosité avec grande Distinction of the Geneva Conservatoire, and was named First Prizewinner at the Concours International of the same city.
From 1950 to 1993 he taught at the Lucerne Conservatoire, and acquired an international reputation as a teacher. It was to be expected that private teaching would keep him busy in retirement. He continued to teach with the same passion and dedication that marked his teaching at the school.
1950–1994, concerts and recitals mostly in Lucerne: In 1963, first performance of B. Martinu's Trio-concert (1933) at the Lucerne Festival (Lucerne Trio with Walter Prystawski, Violin, and Esther Nyffenegger, Cello). Concert tours throughout Europe with the Lucerne Trio and the Festival Strings Lucerne as well as recitals in many European cities and in Chile. In 1981 he was awarded the Arts-Prize of the City of Lucerne.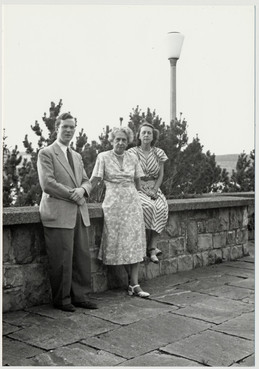 1948–50 To his most cherished memories of this time, Harry counts many days spent with Mrs Rachmaninoff at Villa Senar, where he played on Rachmaninoff's Steinway, and accompanied Sophie singing her grandfather's songs.